Reach the next level of tiling


For precise results at every stage


Our highlights:
Best for Hard Ceramic diamond cutting disc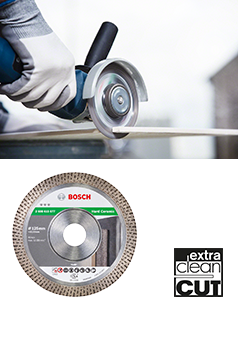 Thanks to the consistent segment design and the special diamond composition, this cutting disc minimises splintering and scorch marks. In order for tilers to be able to work with greater flexibility, e.g. when cutting recesses for sockets, Bosch is now offering this cutting disc with a diameter of 85 millimetres for the first time. It enables you to produce right-angled cut-outs measuring 60 x 60 millimetres quickly and effortlessly. The diamond cutting disc is available in diameters of 76, 85, 115 and 125 millimetres and is suitable for use with conventional angle grinders.


Best for Ceramic finger milling cutter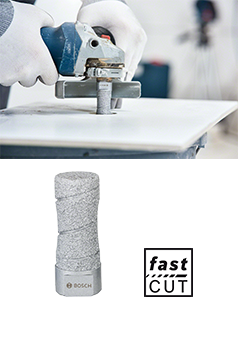 Tilers can guide the finger milling cutter precisely and stably along the workpiece. Pre-drilled holes can be expanded to any shape with ease. A precisely coordinated diamond grit ensures rapid work progress and extremely clean milling at the same time. The flat head allows you to work on tiles which have already been fitted on the wall. The "Best for Ceramic" finger milling cutter has a diameter of 20 millimetres and an M14 adapter and can be used with all conventional angle grinders. Tools with speed regulation are particularly suitable, such as the GWS 7-15 E Professional from Bosch.


Best for Ceramic Dry Speed set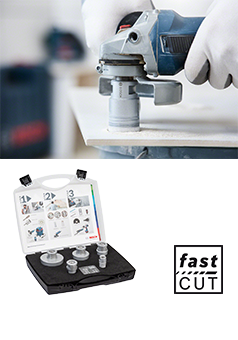 Quickly and easily drill cut-outs for water pipes, heating pipes, sockets or water outlets with the "Best for Ceramic Dry Speed set". The handy set contains a total of four core cutters with diameters of 25, 35, 51 and 68 millimetres and thereby covers all common applications. The core cutters have an M14 adapter and can be used with all conventional angle grinders.

All tiling accessories
here